---
Educate Yourself about HIV/AIDS and Human Trafficking
July is National HIV Awareness Month. Honor it by learning about how trafficking victims are at increased risk of becoming HIV positive.
This action is on a new page. Don't forget to come back and tell us if you took this action.

Thank You!
Thank you for completing this action. Head back to the action library to see more ways you can help.
Share this Action
In 2012, a coalition of US-based national HIV/AIDS organizations named July National HIV Awareness Month.
Therefore, July is an appropriate time to learn about how victims and survivors of modern-day enslavement and human trafficking are at increased risk of becoming infected with HIV, the virus that causes AIDS.
In honor of World AIDS Day 2018, End Slavery Now published a blog post for the National Underground Railroad Freedom Center about this issue. This post discusses how the various forms of modern-day enslavement - such as sex trafficking and domestic servitude - place individuals in highly vulnerable situations where they are at increased risk of HIV infection. It also explores how victims and survivors of modern-day enslavement are less able to access information about HIV/AIDS prevention and treatment. It provides helpful links to both qualitative and quantitative studies about the link between human trafficking and HIV/AIDS susceptibility. 
Click the button above to read the article. Remember: you really cannot get HIV/AIDS from a hug!
Forms of Abolition:
Awareness, Empowerment
Forms of Slavery:
Sex Trafficking, Domestic Servitude, Forced Marriage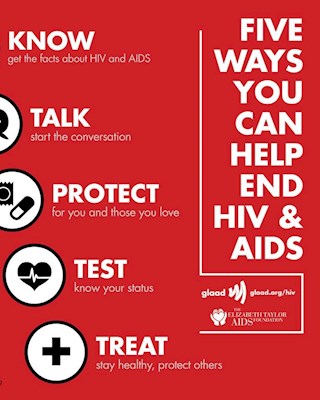 Did you complete this action?
We want to track how many people take this action, so we understand the impact it has on the ground. We share these impacts regularly and always partner with organizations to make sure what you're doing counts.