---
Learn About Missing and Murdered Indigenous Women
November is Native American Heritage Month in the United States. Honor this month by learning about how human and labor trafficking affects Native American communities, particularly women.
This action is on a new page. Don't forget to come back and tell us if you took this action.

Thank You!
Thank you for completing this action. Head back to the action library to see more ways you can help.
Share this Action
40% of Women Who are Human Trafficking Victims or Survivors Identify as American Indian, Alaska Native, or Native American.
This statistic is from a 2015 study by the National Congress of American Indians. This is reflected in a report by Amnesty International demonstrating that Native American women face disparities in public safety, health, and justice services. These facts have led some advocacy groups and state and tribal governments to insist that there is a "crisis" of missing and murdered indigenous women.
In March of 2019 the U.S. House Natural Resources Subcommittee on Indigenous Peoples of the United States held a hearing on this very issue. The hearing covered various projects intended to raise awareness of and address this problem, and was a crucial step in addressing the crisis. Click the button above to watch the hearing. You can also follow the links on this page to learn more about why Native American women are at such elevated risk of falling victim to traffickers. Don't forget that every month is a good month to fight to end trafficking in Native American territory.
Forms of Abolition:
Awareness, Policy Making
Forms of Slavery:
Sex Trafficking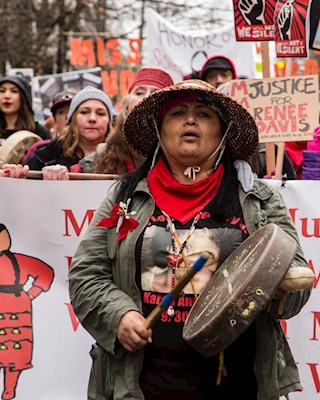 Did you complete this action?
We want to track how many people take this action, so we understand the impact it has on the ground. We share these impacts regularly and always partner with organizations to make sure what you're doing counts.