---
Learn about #MMIWG on Indigenous Peoples' Day
The intersection of gender-based violence and MMIWG is heavily intertwined. It is important to understand the connection between domestic, dating, and sexual violence and the high incidence of missing and murdered Indigenous women and girls (MMIWG) in the United States.
This action is on a new page. Don't forget to come back and tell us if you took this action.

Thank You!
Thank you for completing this action. Head back to the action library to see more ways you can help.
Share this Action
The current reports of abduction and murder of Native women and girls are alarming and represent one of the most horrific aspects of the spectrum of violence committed against Native women. The murder rate of Native women is more than ten times the national average on some reservations. These disappearances or murders are often connected to domestic violence, dating violence, sexual assault, stalking, and sex trafficking. 
The National Indigenous Women's Resource Center has put together #MMIGW toolkits and awareness materials.
Photo Attribution: Lorie Shaull
Forms of Abolition:
Awareness, Prosecution, Empowerment
Forms of Slavery:
Sex Trafficking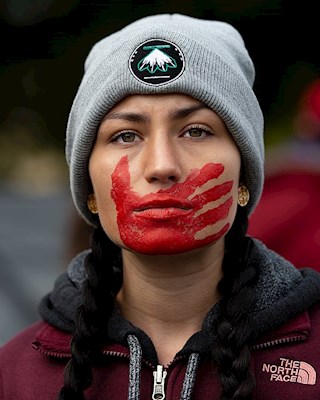 Did you complete this action?
We want to track how many people take this action, so we understand the impact it has on the ground. We share these impacts regularly and always partner with organizations to make sure what you're doing counts.