---
Ohio Emancipation Day
September 22 is Ohio Emancipation Day. Observe this day by educating others about modern-day enslavement.
This action is on a new page. Don't forget to come back and tell us if you took this action.

Thank You!
Thank you for completing this action. Head back to the action library to see more ways you can help.
Share this Action
On September 22 1862, President Abraham Lincoln issued a preliminary version of the Emancipation Proclamation. People gathered in public spaces to hear it read aloud, including at the Ohio Statehouse in Columbus. This led to annual celebrations of emancipation by Ohioans on that date. Things became official in 2006 when the Ohio legislature passed HB 393, designating September 22 as "Emancipation Day." These days "Emancipation Day" is celebrated with food, concerts, and historic reenactments.
This year and every year, try observing "Emancipation Day" by sharing one fact about modern-day enslavement with your community. You can also learn about your country's history with enslavement, as understanding previous struggles against injustice is crucial to fighting against it in the present day. You can also plan a trip to Ohio's own National Underground Railroad Freedom Center, which has exhibits on both historic and modern-day enslavement.
Forms of Abolition:
Empowerment, Awareness
Forms of Slavery:
Domestic Servitude, Sex Trafficking, Forced Labor, Bonded Labor, Child Labor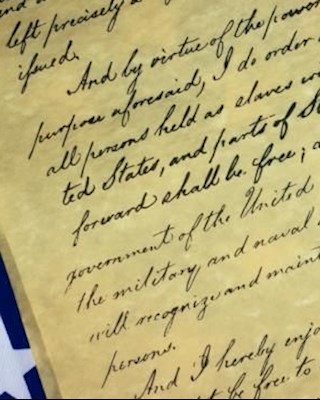 Did you complete this action?
We want to track how many people take this action, so we understand the impact it has on the ground. We share these impacts regularly and always partner with organizations to make sure what you're doing counts.